Multiple Group 1 success in South Africa accelerated Luke Ferraris' ability to move to Hong Kong.
Luke Ferraris started the year thinking his best chance of making it to Hong Kong was via a stint in Australia, but a Group 1-winning spree in his homeland has him living his dream far sooner than expected.
Ferraris was in the process of obtaining an Australian visa when he won the Group 1 Cape Town Met aboard Rainbow Bridge in January and four more top-level victories have followed, including two on his way to taking out the South African Triple Crown aboard Malmoos.
"To win the Triple Crown with two Group 1s in it was massive for me and it's impacted my career hugely," said the 19-year-old, a two-time champion apprentice in South Africa.
"[Winning] multiple Group 1s was one of my goals to achieve and because of that I got a fair amount of recognition."
Ferraris rode work in Hong Kong for the first time on Saturday, trialled three horses for his father David on Tuesday morning and is itching to taste the real thing at the season-opening meeting on Sunday, 5 September.
"There was always the line of thought that maybe he needed that step in Australia but he kept blossoming in South Africa and with his connections here it just seemed to be the right peg in the right hole," said Jockey Club licensing committee secretary Terry Bailey.
Ferraris grew up in Hong Kong after his father moved to the city to train ahead of the 2003-04 season and he spent his childhood in the thick of the action at Sha Tin – something which has ensured the youngster knows what he's up against as he tries to carve out a career in one of the world's toughest jurisdictions.
"Obviously, growing up here I've seen how tough and competitive it is but the more success I had in South Africa, the more my confidence grew," he said.
"If you'd asked me at the start of my career if I'd want to be in Hong Kong at 18 or 19, I probably would have laughed. But as time went on, riding in the big races and getting the results I was wanting to, Hong Kong became more of a dream turning into reality.
"My first morning on the track felt a little bit surreal. For a good part of my childhood I was on the ground walking next to dad and now I'm on top of the horses and living my dream."
The global pandemic meant Ferraris had to jump a couple of final hurdles to get to Hong Kong but he was able to make the most of his six-week odyssey after his father met him in the Maldives.
"From South Africa I had to do a 21-day wash out in a low-risk country, that was the Maldives, and after that 21 days quarantine here in Hong Kong, which was a little bit tougher than the Maldives," Ferraris said.
"We had a good discussion about Hong Kong and the challenges that I'll face and possible ways of overcoming them. It was very informative and very helpful – it was a long time but a good time because he taught me a lot."
And what can Hong Kong punters expect from the youngest jockey in town?
"Probably my strongest attributes would be trying to get on with as many horses as I sit on and getting to know them in a short space of time and trying to get the best out of them," Ferraris said. – South China Morning Post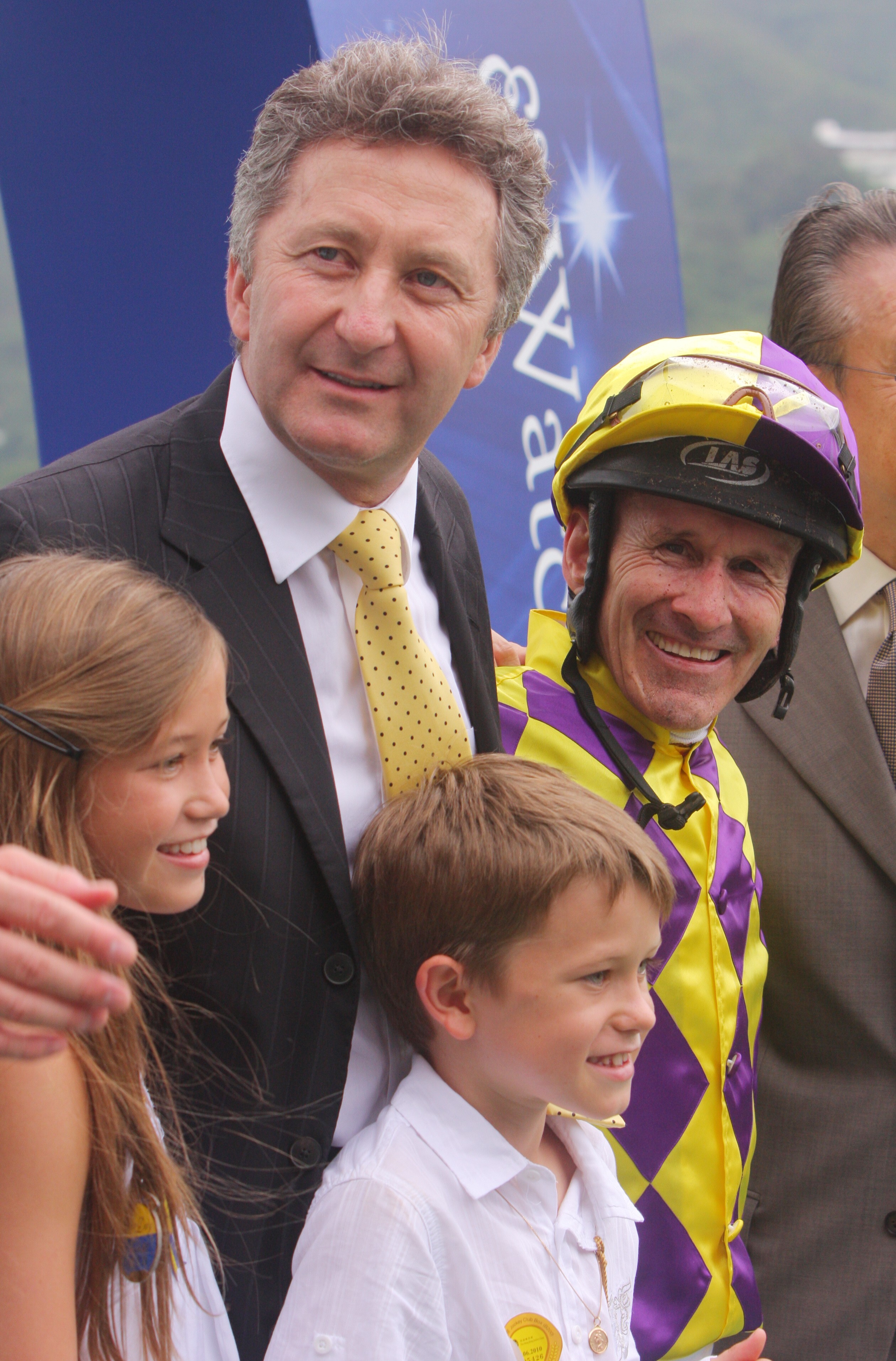 A young Luke Ferraris (centre) with his father David (top) and Jeff Lloyd after a winner in 2010. Photo: Kenneth Chan
Views: 485